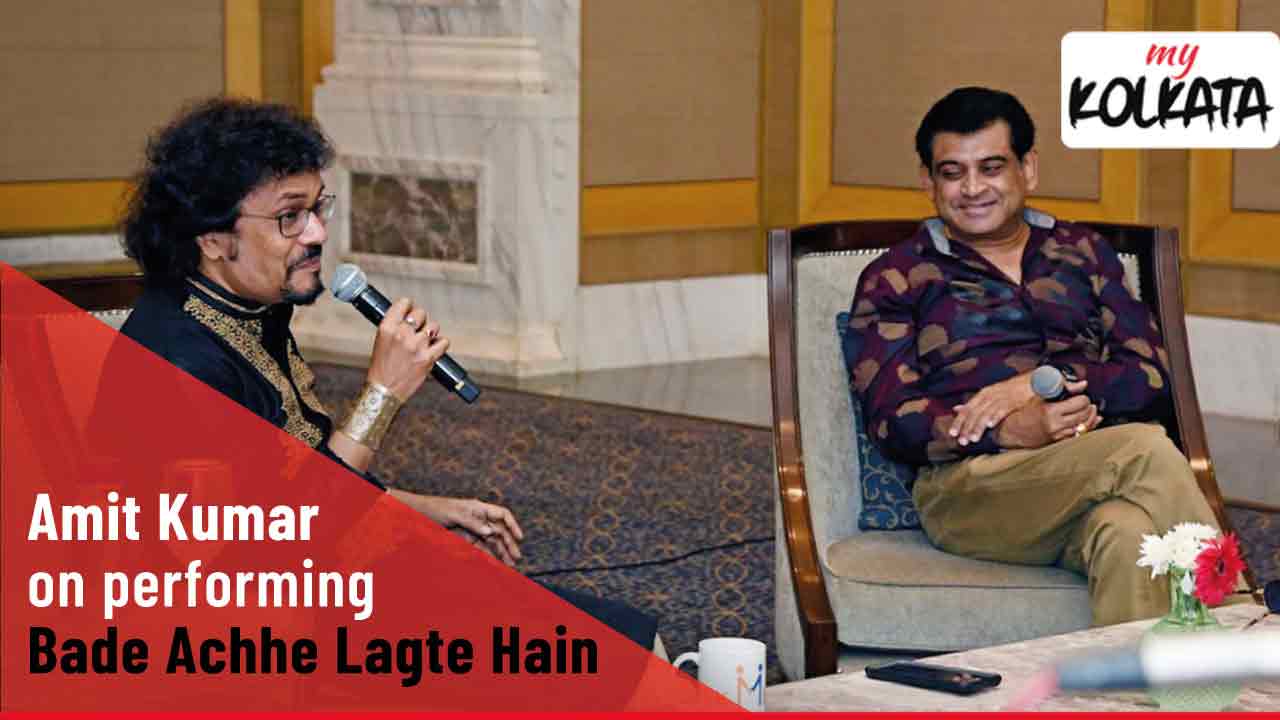 Ek Mulakat Music composer Amit Kumar in conversation with Bickram Ghosh about Kishore Kumar, RD Burman at a Prabha Khaitan Foundation event
There will never be another Kishore Kumar. No one has heard this statement more often than the man who was born with the privilege and burden of being the son of Kishore Kumar. And yet, despite having followed in his father's footsteps in the world of music and cinema, Amit Kumar "never wanted to copy my father. I just wanted to be myself, to live my life my way.
In Ek Mulakat's first in-person session in 18 months, Amit Kumar regaled the ITC Royal Bengal audience with music and memorabilia from a golden age. Hosted by the Prabha Khaitan Foundation, in association with Shree Cement Ltd, Ehsaas Women of Kolkata and digital media partner My Kolkata, the evening's discussion was chaired by percussionist Pandit Bickram Ghosh, who revealed that speaking with Amit Kumar was a "fanboy moment" for him, for his songs "had permeated my consciousness when I was in school".
Bickram Ghosh in conversation with Amit Kumar for Ek Mulakat at ITC Royal Bengal
Amit Dutta
After a warm welcome by Esha Dutta, Ehsaas Woman of Kolkata, Ghosh began the conversation by asking Kumar if his father's legacy had already stalled him.
"A lot of people have told me that if I took myself and my singing more seriously, I would have been a much bigger artist. The point is, I know I could never be my dad, nor sing. like him, but that didn't stop me from creating my own identity, "Kumar explained.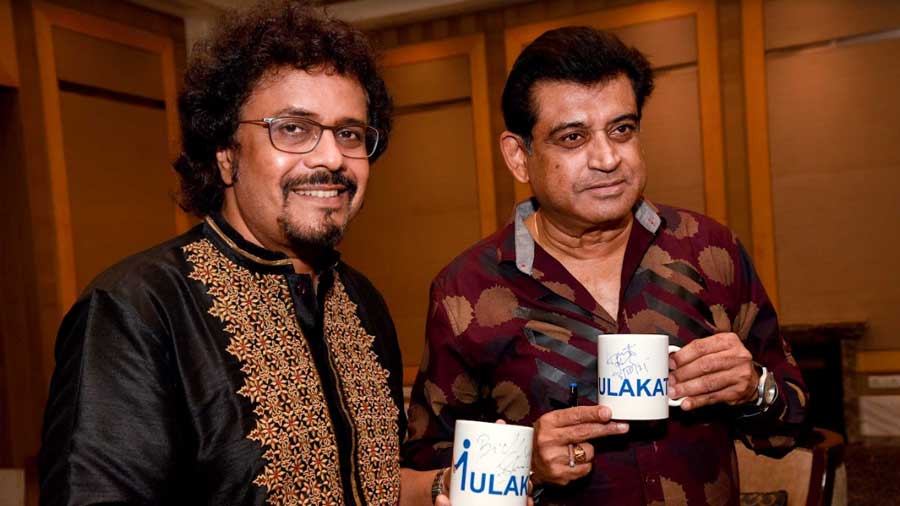 Bickram Ghosh and Amit Kumar pose with Ek Mulakat coffee cups
Amit Dutta
Kumar opened up about the relationship he shared with legendary musical directors like Rahul Dev Burman, Laxmikant-Pyarelal and Madan Mohan. "These are the people who made me and inspired me," he said. Recalling an interaction with RD Burman, he shared, "Pancham da called me up and told me he thought the song sounded like a bhajan…. After becoming a super hit, Pancham da still looks like he didn't like it at all. The song in question? Yaad aa rahi hai from the movie Love story, which Ghosh described as "a hymn for a generation".
Video edited by Madhurai Banerjee
The discussion has shifted to the place of melody and lyrics in contemporary music. "Ninety percent of people are essentially non-musical. There will always be trends that will take over and last for a few years, but a good melody will never completely go away, thanks to the remaining 10%.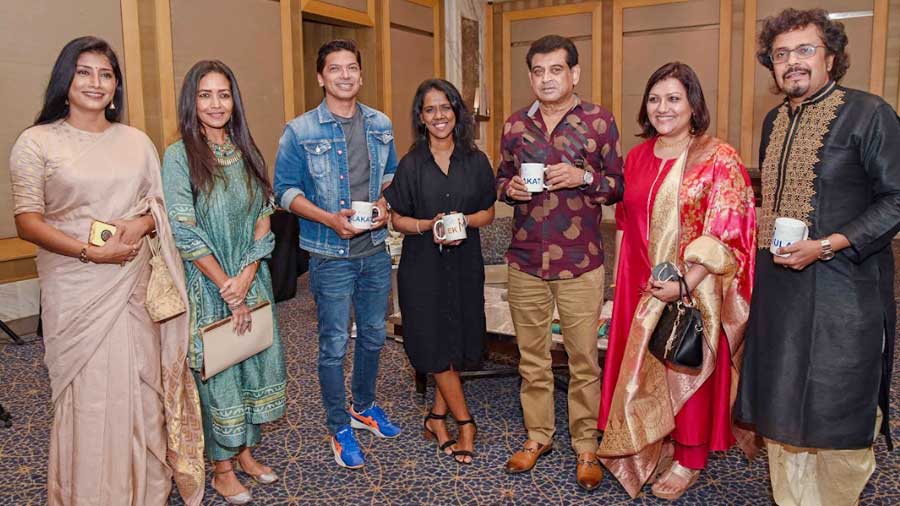 Left to right: Jaya Seal Ghosh, Esha Dutta, Shaan, Mahalakshmi Iyer, Amit Kumar, Mohua Chatterjee and Bickram Ghosh reunite for a group photo after the discussion
Amit Dutta
Kumar also answered questions from the audience, including one from Mahalakshmi Iyer, who was present with fellow singer Shaan. Iyer asked Kumar what was the biggest lesson his father had taught him and if he had any regrets. "My dad always told me that people would keep uplifting you in life, but you still have to know your worth and quality…. As for regrets, I don't have any. I'm just glad I never got serious and yet people accepted me for who I am, "he replied.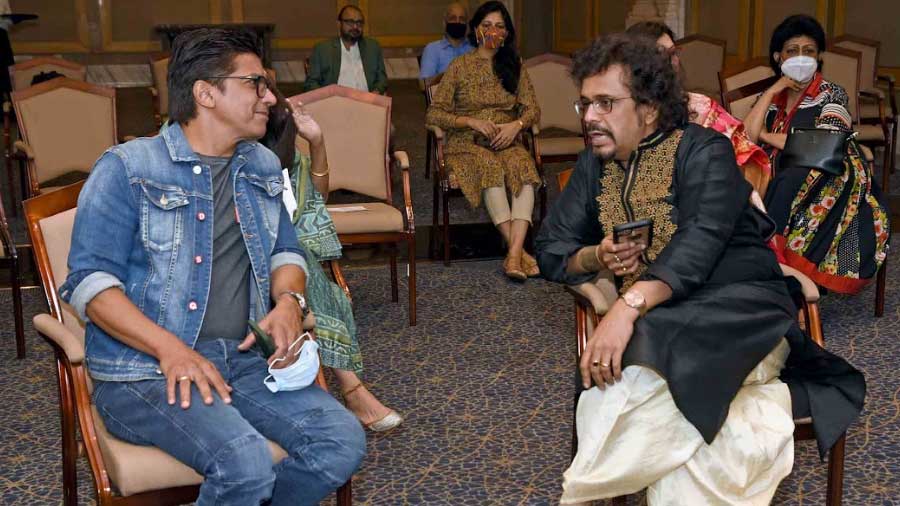 Shaan and Bickram Ghosh catch up off the stage
Amit Dutta
The evening ended with Kumar performing some of his most popular songs including Bade achhe lagte hain of Balika badhu, which gave him his Bollywood break in 1976.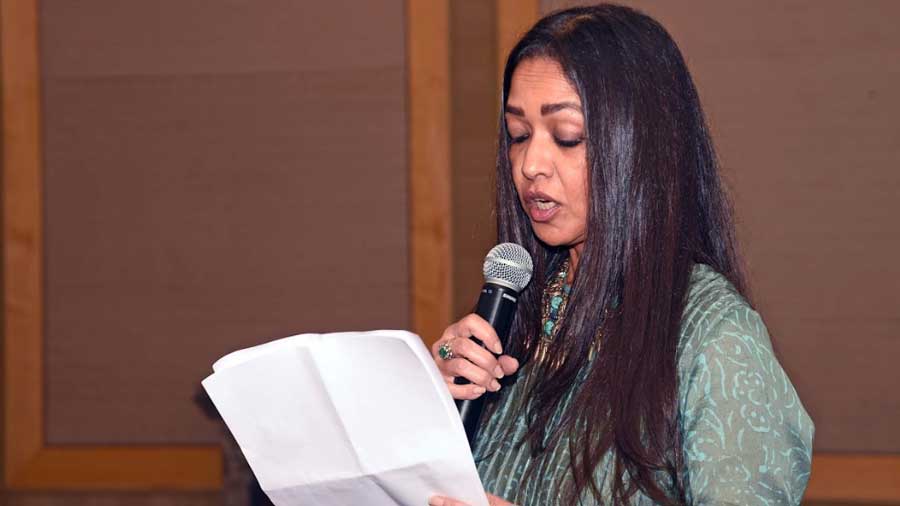 Esha Dutta, Ehsaas Woman of Kolkata, introduced the speakers for the evening
Amit Dutta
I think Amit Kumar was a revelation. He's always green in terms of voice and appearance, and the anecdotes he shared about his life and his father. It has been one of the most memorable Ek Mulakat sessions I have attended so far.
ESHA DUTTA, Ehsaas woman from Calcutta

It was an amazing session where Bickram Ghosh's knowledge and his intimate association with the musical fraternity brought out the best of Amit Kumar. The fact that we could interact in person during the session made it even more special.
MALLIKA VERMA, Ehsaas Woman of Calcutta

I got so much information about Bollywood legends during the chat and I was amazed at how relaxed Amit Kumar is and how well he is despite having a great musical heritage of his own. .
SHAAN, singer