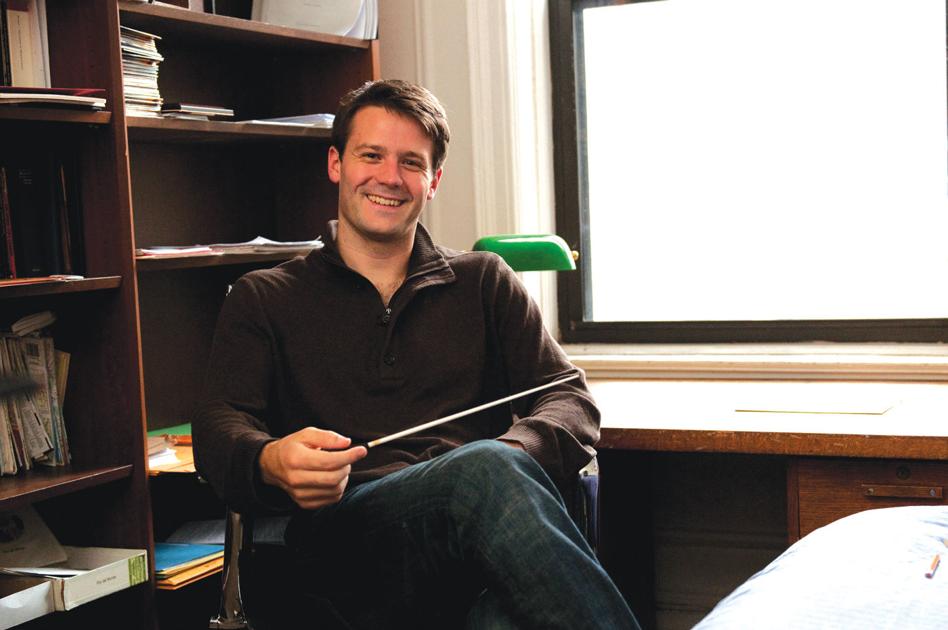 From the maestro's office | Turning the energy of the Grammys into an investment in music education | New
[ad_1]
How does it feel to win a Grammy?
I've heard this question a lot lately. The answer is, it's amazing, and I love that the award is so closely tied to this community.
But even as we all celebrate this historic victory, I asked myself, "How can we use this Grammy energy and excitement and make it into something that benefits Johnstown?" "
I suggest that we do something important and make a spectacular new investment in music education as a society.
The benefits will be far-reaching and inspiring for our current students in their studies and their lives, for the people whose lives they touch with their game, and for their future, whatever profession they choose for themselves.
I've written about the value of sport before. As you may know, I was a varsity athlete in three sports in high school and learned so much from these experiences, as well as those involving music (and I'm very happy to pitch the first pitch for the first time). opening day of the Mill Rats on May 27!).
I am not suggesting that we reduce our support for sport. On the contrary, I propose that we value the arts on a level equal to athletics. The point is that as a country we don't currently value the arts as much as we do sports – and that's a problem.
What if we take this moment to become a leader in the country, showing how a rural community can value music and the arts in a way that ends up transforming the future and vibrancy of this whole region?
What I am proposing is to add to what is already working.
An example for the country
The dedicated music teachers in our region do an incredible job every day. They often give lessons in wind and string instruments, while conducting several ensembles, as well as choirs.
Several of them play in the JSO, and others have partnered with us in significant ways over the years. I can't say enough about each of them and their central role in the fabric of our music community.
Musical theater programs are often vigorous and robust, and we must maintain all that success. But if we choose to be an example to the rest of the country in all the musical opportunities we offer, what will that be like?
Knowing the benefits of teaching strings in particular, is it possible for every high school to have a strong orchestral, orchestral and choir program? Can we ensure that every fourth and fifth grader has access to both string and wind instruments in their schools, and has access to education in school as well as private education if they wish?
What is our vision of the arts in Johnstown?
Now is the time for us to put that vision into motion, and we will be holding conversations and meetings with our local teachers and superintendents over the next few weeks to see what will be possible.
I will encourage all of us to think big, both about what schools are able to deliver and what our partnership can look like.
Once students have gained experience on their instruments, our Johnstown Youth Symphony Orchestra is a fantastic place for children to play, under the expert guidance of David Anderson, and the JSO looks forward to partnering with schools.
The recent transformation grants from the 1889 Foundation and the Alleghenies Community Foundation make me more optimistic than ever about our ability to do this work together.
Jessie Yahner, a dedicated young trombonist and violinist from JSYO who just performed in a workshop with our professional brass musicians last week, wrote about the role of music in her life: "As a human, study and play. music has helped me by giving me something to constantly look forward to, and I have met so many wonderful people through music.
"As a student studying music has helped me develop good habits and skills (time management, hard work, etc.) which can be applied to other tasks / topics unrelated to music. As a citizen, music has helped me get involved in my community by playing in the JSYO and alongside the JSO.
With 12 seniors graduating this year and seven of those entering college as music majors, the JSYO has the opportunity to grow through significant recruitment – and in most cases, the students who audition will have played their own. instruments for several years at school or in private education.
An outlet that changes life
We have seen how the arts bring innovation, creativity, health, joy and economic activity to this region. And as Jessie said so eloquently, for our kids there are more layers to these benefits. The arts are an outlet and a vital and crucial path that changes life.
According to a 2020 report from the Getty Foundation and the San Francisco Conservatory of Music, "Music lessons during childhood correlate with better academic performance and higher IQ scores, even taking into account family income and parent education ". Another 2019 study surveyed over 100,000 students and found "a clear effect of music lessons on academic performance."
Studies have consistently shown that music benefits the brain, as well as the mind, and that children who play music are, on average, one level ahead of their peers academically.
They are also less likely to drop out of school and perform better on tests. But more importantly, music provides them with an emotional and social experience at this crucial developmental age when the world around them is a whirlwind of possibilities and confusion. They can better understand their own emotions through the music they play, study and listen to.
Music creates a sense of self, a habit of discipline, and an ability to set and achieve goals that will benefit people throughout their lives.
The Getty report also demonstrated that "teaching and practicing music leads to measurable gains in creativity".
In our ever-changing world, we need our students to be able to adapt and innovate, and music is one of the best ways to develop that.
Steve Wozniak, co-founder of Apple, says that "the best engineers, the brightest, the really creative artists who can create a whole new category of product at Apple, they ALWAYS have a solid musical background."
As an added benefit, playing strings in particular has become one of the best ways to gain admission to our local colleges and receive scholarships.
If we invest more in ropes programs in each of our schools, we would see benefits throughout society.
Paths to success
Together we just won a Grammy. The community has been over the moon. I'm so happy, and I'm so grateful that life has brought me to this place. More than anything, it makes me want other children to have the same opportunities as me.
We envision ways for music to create truly transformational change. If the JSO received a $ 2 million grant to run a music school on Saturdays, we would be able to create a strong program in partnership with our local schools, families and community centers.
And if all the pieces fall into place, I can say this: If every kid in this town and region played an instrument for two or three years, we would see a dramatic change in all kinds of side benefits. Children could play for patients in hospitals. Students could form their own sets. Each church could offer the music of these student musicians to their service, even more than it already does. Weddings and special occasions were celebrated to the sound of string quartets from local high schools.
Your next holiday party might mean hiring the high school jazz band, led by a young conductor who could very well win the next Grammy for Johnstown.
But there are benefits beyond test scores, health, wellness, and the innovation that music brings. There is also an intrinsic value to the experience of playing music. Music heals the soul – it gives voice to the mysteries of love and loss and our search for meaning. It settles us down and inspires us.
Johnstown is a wonderful place to raise a family. We owe it to our children to give them an exemplary arts education as well as to provide excellence in studies and athletics.
Let's take that Grammy energy and do something really awesome together.
Let's fund strong string programs, orchestras, bands and choirs in all of our schools, encourage our kids to participate, and start our next Grammy winners on their way right here in Johnstown.
[ad_2]