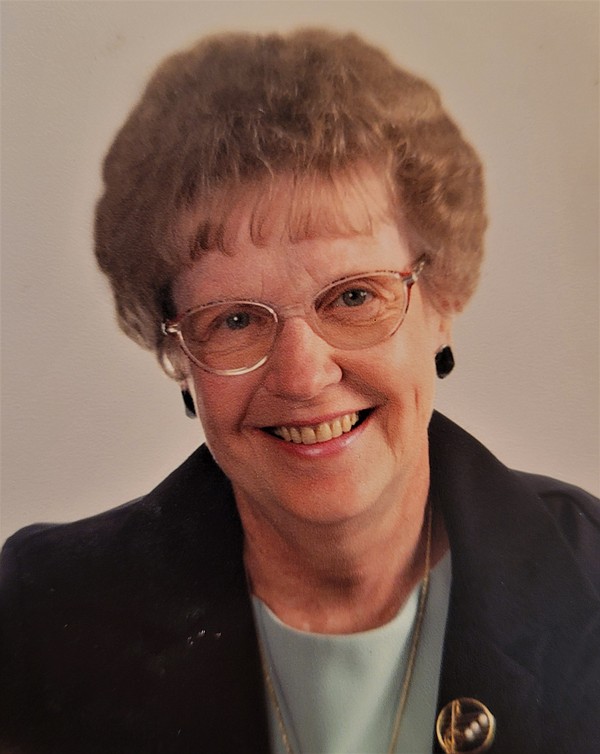 Meyer influenced dozens of students during his career in teaching music
[ad_1]
Small in stature but a titan in spirit, Beverly Meyer has created a notable legacy through music education programs in several school districts.
Although she is now retired, her rowdy nature continues to be felt in many communities through her volunteerism and charity, seeking to ensure that future generations remain proud of their schools' sports and music programs.
Born and raised on her parents' farm in High Point, Meyer not only learned to adopt the farming lifestyle at a young age, but also worked many hours in the JF Tising & Sons store founded by her great-great -dad.
"It was a general store that opened in 1874," she recalls. "I was 12 when I started working there, sweeping floors, stocking shelves, giving change for customers and candling eggs."
Coming from what she described as a "musical family," Meyer took piano lessons from a woman who lived across the street while participating in gospel singing groups as a child. Additionally, while attending High Point One-Class School, she and her fellow students received an introductory level of music education from their teacher.
"There has never been a time when I haven't had music in my life," she said.
After completing her eighth year at High Point, she transferred to California High School and graduated in 1957. Hanging on to an interest in teaching music, she enrolled at Central Missouri State College. in Warrensburg.
"My aunts went to college and my grandfather went there when it was the (state) normal school," Meyer said.
Meyer received her BA in Music Education in 1961. In the fall of that year, she was hired as a vocal and instrument instructor for premiere at 12th at Green Ridge R-8 southwest of Sedalia.
She stayed there for the next 12 years, leading the choir and girls' club, achieving the highest mark out of 23 schools participating in a competition. In 1972, she married John Meyer, with whom she had attended school at High Point, and the couple moved to Mid-Missouri.
"For three years, I taught half a day at High Point and a half day at Versailles," she said. "It was a very busy time because we were trying to build a house, and I also worked in my father's store and gave piano lessons.
"In 1975 I had to go to Russellville to pay for a house, and while I was in the area I stopped by school to see if they needed help. I spoke to the secretary about Grover Snead, who was the superintendent at the time, and I told him I was interested in teaching. "
The next day, Meyer got a call from Superintendent Snead, who told her he had a contract waiting for her if she was still interested in a teaching position.
Over the next quarter century, his musical education for elementary grades included developing programs for PTO, Thanksgiving, and Christmas reunions in addition to assisting in the production of the Robin Hood musical. In 1999, her choir was invited to sing for a Christmas dinner at the Governor's Mansion, where she received a proclamation signed by Governor Mel Carnahan.
"We had a lot of fun in our classes," said Meyer. "We even went into limbo and learned to dance square."
Years earlier, in 1990, she made the decision to close her father's store, realizing that she couldn't both manage it and stay focused on her full-time job as an educator.
After retiring from Russellville in 2000, Meyer continued to teach part-time for three years at the Latham School. Well-deserved recognition came in 2006, when she was one of six educators – including three from Russellville – selected as Missouri's "educational pioneers". Sadly, the joy at these accolades was tempered by the death of her husband, John, in 2009.
For years she lived on her family's farm, which earned the distinction of being a "Missouri Century Farm". She made the decision to sell her father's store in 2016; However, his family's legacy in the community is supported by Meyer's generosity towards musical and sports initiatives.
"One of my greatest pleasures is volunteering to help the Russellville Choir," she said. "In 2014, the choir got a '1' in the competition, which it had not done since 1966."
With a smile, she added, "In 1966 my sister was the teacher, so that's an interesting connection."
Meyer continued, "I also enjoy playing the piano at school events like the program they have for Veterans Day. Also, I sell tickets to the Russellville ball games and see a lot of my alumni that way.
In recent years, his philanthropic spirit has manifested itself in the purchase of pianos for schools in High Point, Russellville, Latham and California. His generosity also includes donations made towards the purchase of the Russellville High School marquee, orchestra uniforms and printed mascot signs for the school gymnasium.
Although she and her late husband never had children, Meyer acknowledges that her career in education, along with her volunteer efforts, has brought her a family numbering in the thousands.
"I heard from several alumni who ended up becoming music teachers," she said. "I guess that might be a clue that I was a good teacher who influenced other people's lives… something that I just love.
"And although I've never had kids, I know I really have around 10,000 because of all these kids I've taught over the years, and that's pretty special to me." Meyer added.
Jeremy P. Ämick writes on behalf of the Silver Star Families of America.
[ad_2]