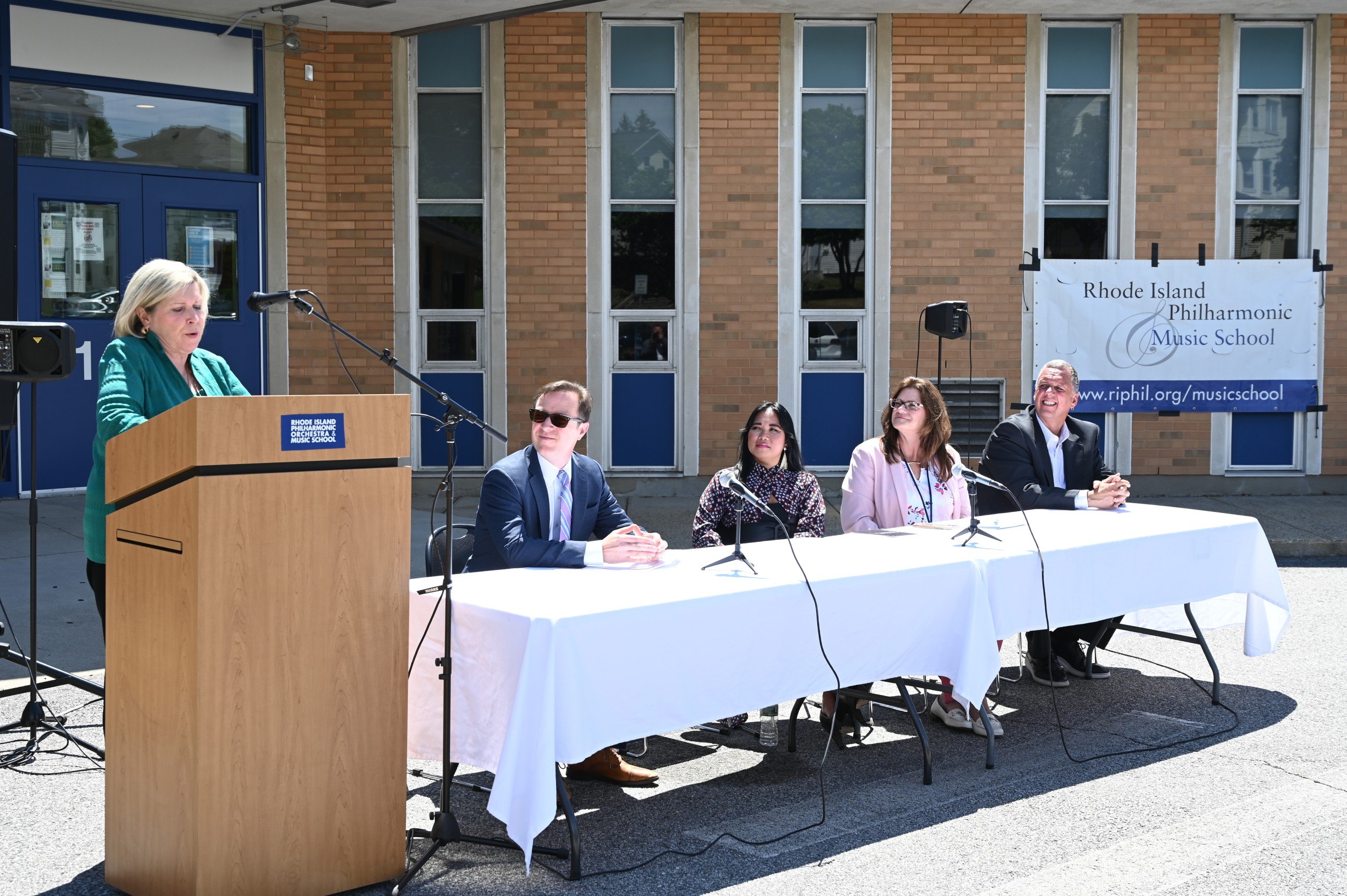 Rhode Island Philharmonic and Papitto Opportunity Connection expand access to music education
The Rhode Island Philharmonic Orchestra and School of Music makes music education even more accessible to local elementary school children with the support of the Login Papitto Opportunity. Yesterday at Agnès. At Little Elementary School in Pawtucket, the organization announced plans to expand its diversity, equity and inclusion initiatives.
"As we have evolved as an organization over many years, and particularly over the past decade, we have thought about the changes we wanted to help bring to this community," says RI Phil's Managing Director, David Beauchesne. "One of those changes we wanted to make was to make sure that every child in the state of Rhode Island, no matter where they live, no matter where they went to school, no matter how much money their family had, that he would have access to a quality musical education.
And the Rhode Island Philharmonic is delivering on that promise, thanks to POC funding. "When David told us about his plan, we immediately knew it would become one of the first flagship programs funded by Papitto Opportunity Connection," said POC Founder and Trustee Barbara Papitto. "At POC, we invest in unique programs and help break down barriers to education, skills training and entrepreneurship for people of color. Our goal is to create pathways to success for people who don't haven't always had opportunities.
Rhode Island Philharmonic Orchestra and Music School increases financial aid for the Music school and the widening of access to the Philharmonie Link Up Education Program in local elementary schools. They also expand the Victoria's Dream Project (VDP) of Agnes. E Little Elementary School at Henry J. Winters Elementary School in Pawtucket. Concurrently, the RI Phil is also participating in a four-year independent research study with Brown University's Urban Education Policy Program Director, Dr. Kenneth Wong, to analyze the effects of Link Up and VDP on participating students from the Pawtucket School District. The study "will track the musical, academic, and social-emotional growth of participating students and determine whether the program helps reduce systemic achievement gaps for children of color in Rhode Island and elsewhere."
Victoria's Dream Project is a rope-teacher program for grades three through five, available at Agnes Little Elementary School and soon to be at Henry B. Winters Elementary School, both located in Pawtucket in communities to concentrated poverty where students experience achievement gaps. Victoria's Dream is named after Victoria Alviti, who tragically lost her life. Her mother, Sharon Alviti, founded this project to be her daughter's namesake as part of the Victoria Alviti Music Foundation. Victoria loved music in elementary school, where she played the recorder, violin and piano, and eventually became a well-known DJ before her death.
"Victoria believed that every student, regardless of economic background, should have the opportunity to experience the positive impact music can have in their lives," says Sharon Alviti. "Today, Victoria's dream has come true. Victoria's Dream Project is changing lives one note at a time. I am thrilled to see this program expand into a new school thanks to the generous support of Papitto Opportunity Connection.
Ting Barnard, Papitto Opportunity Connection advisory board member and Rhode Island Philharmonic board member, speaks. She says it's important for kids of color to be able to see people like them teaching them and doing the things they aspire to do, and that starts with granting access to make it happen. "We see firsthand how music education can greatly improve a young person's creativity and overall mental health. We know anecdotally that it also encourages focus, discipline and achievement in schools, especially in the areas of math and science," she says. "This incredible investment through POC will provide pathways for young students to develop their creativity both personally and professionally. This will give them the opportunity to play an instrument of their choice, perhaps audition for a seat in the orchestra, or even later pursue a career as a full-time musician if they wish.
The program will give students the tools and access they need to succeed. "So really, the sky is the limit when a person doesn't have barriers that limit their potential to dream big," Barnard says. "I hope the investment and commitment of POC and RI Phil will have a long-lasting legacy, one that will have a profound impact on our communities of color by keeping art, creativity and music alive."
RELATED ARTICLES
How Papitto Opportunity Connection's All-BIPOC Advice Better Serves Communities of Color
Papitto Opportunity Connection Commits $1 Million to Bring Transform RI Scholarship Winner's Idea to Life
Haircuts and Heritage Project engages city's youth with mentorship in a safe place