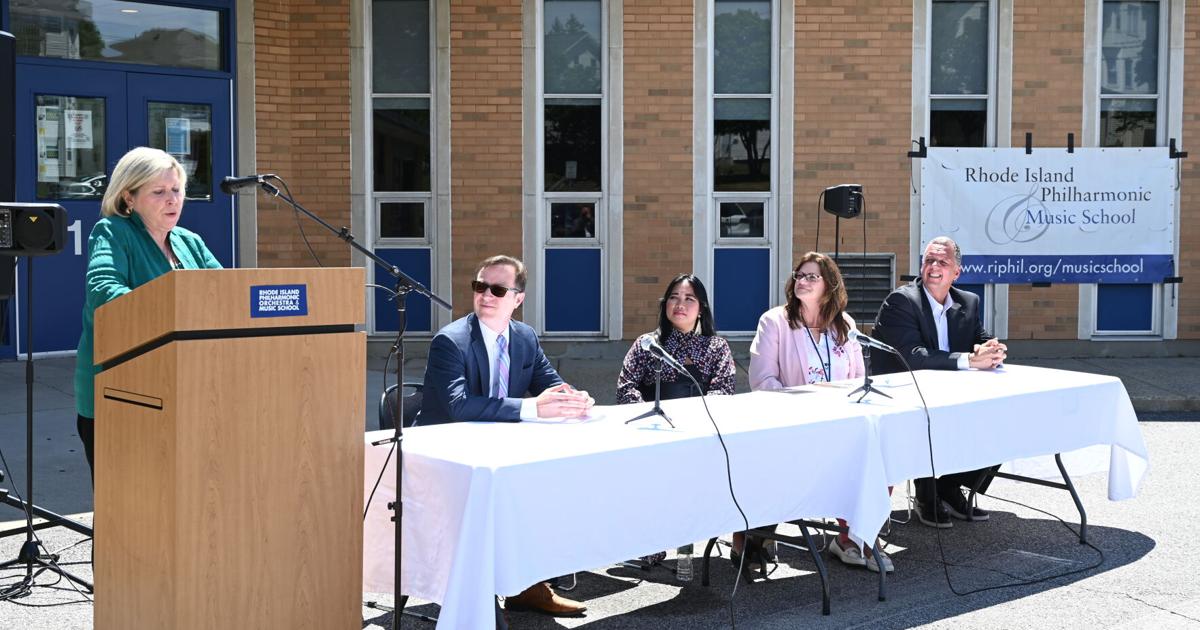 RI Philharmonic and Papitto Opportunity Connection Partner to Expand Music Education in Pawtucket Schools | Music
PAWTUCKET – The Pawtucket School Department, Rhode Island Philharmonic Orchestra and Music School, and Papitto Opportunity Connection will partner to expand existing music programs while conducting a study of the effect of music education on the development of young people and whether music programs can help close student achievement gaps.
The RI Philharmonic Orchestra & Music School will receive approximately $3 million in support from Papitto Opportunity Connection to expand local music programs. At a news conference at Agnes Little Elementary School in Pawtucket on June 21, RI Philharmonic Orchestra and Music School Executive Director David Beauchesne said the access gap access to music education had widened during the pandemic and that approximately 70% of Rhode Island students lacked access to instrumental music instruction in public schools.
Barbara Papitto, Founder and Trustee of Papitto Opportunity Connection, said this "groundbreaking" program "will help break down barriers to education, skills training and entrepreneurship for people of color."
"…We truly believe that music has the power to inspire, transform, and educate in ways that benefit individuals and communities, and foster lasting change in society," Beauchesne said.
Partnership funding will support greater access to high-quality music education for children of color that will fill critical gaps in opportunity and achievement, and ensure that the RI Philharmonic organization represents and is properly connected to diverse communities. which she serves. It will also support the hiring of more guest artists and conductors, faculty and staff, and orchestral extras who identify as Black, Indigenous or people of color.
Currently, the Philharmonic Orchestra has two full-time and one part-time BIPOC staff members, as well as part-time orchestra members who consider themselves BIPOC. Beauchesne said the Philharmonic Orchestra has increased the number of BIPOC artists hired by 20 to 50 percent over the past four performance seasons. Additionally, he said the philharmonic is working to teach and perform more music written by BIPOC composers, in order to be more representative of the communities it serves.
The increased financial aid to the RI Philharmonic Music School will also expand access to the Philharmonic Link Up educational program for elementary students across the region. It will also support the expansion of the groundbreaking Victoria's Dream project to a second Pawtucket school, Winters Elementary School.
Named after Victoria Alviti and launched in 2016, Victoria's Dream Project is a string instrument education program for low-income students in grades three through five. Last year, with limited attendance since the COVID-19 pandemic, just under 30 students participated in Victoria's Dream Project through Agnes Little. As many or more students are expected to join Winters.
Since 2012, approximately 20,000 PSD students have received over $1 million in free or significantly reduced music education and related instruction through Link Up and VDP. Supt. Cheryl McWilliams, said she believes "there are many benefits to studying and playing music". She began playing the violin as part of a program with the Philharmonic Orchestra when she was in elementary school, and later served as a musician, as well as a voice and music teacher during her career.
"I'm an abiding testament that it (music education) affects the brain, and it pushes you to success, and it pushes you beyond where you thought you could be," McWilliams said.
Papitto said she was "especially thrilled that the Rhode Island Philharmonic has partnered with Brown on this project so that we can truly understand the impact and importance of music education on young people".
In collaboration with the Pawtucket School Department and the Rhode Island Philharmonic Orchestra and School of Music, Kenneth Wong, professor of educational policy at Brown University, will lead a study on the impact of the Victoria's Dream project. Using survey data from students, families, and teachers, the study will track participating students' academic and musical performance, as well as their social-emotional growth over the next four years "to determine whether the program helps reduce systemic achievement gaps for children of color in Rhode Island and elsewhere.
Papitto Opportunity Connection advisory board member and Rhode Island Philharmonic board member Ting Barnard said he's seen first-hand how access to music education can greatly improve creativity and overall mental health. of a young person.
"This incredible investment through POC will give young students pathways to develop their creativity both personally and professionally," Barnard said. "It will give them the opportunity to play an instrument of their choice, perhaps audition for a seat in the orchestra, or even pursue a career as a full-time musician later on if they choose.
Beyond the philharmonic extracurricular programs, the Pawtucket school department is offering a free orchestral program for students this summer, to be held at Jenks Middle School Monday through Thursday, 8:30 a.m. to noon, July 5 through July 4. august. Instruments, music, and buses are all provided.