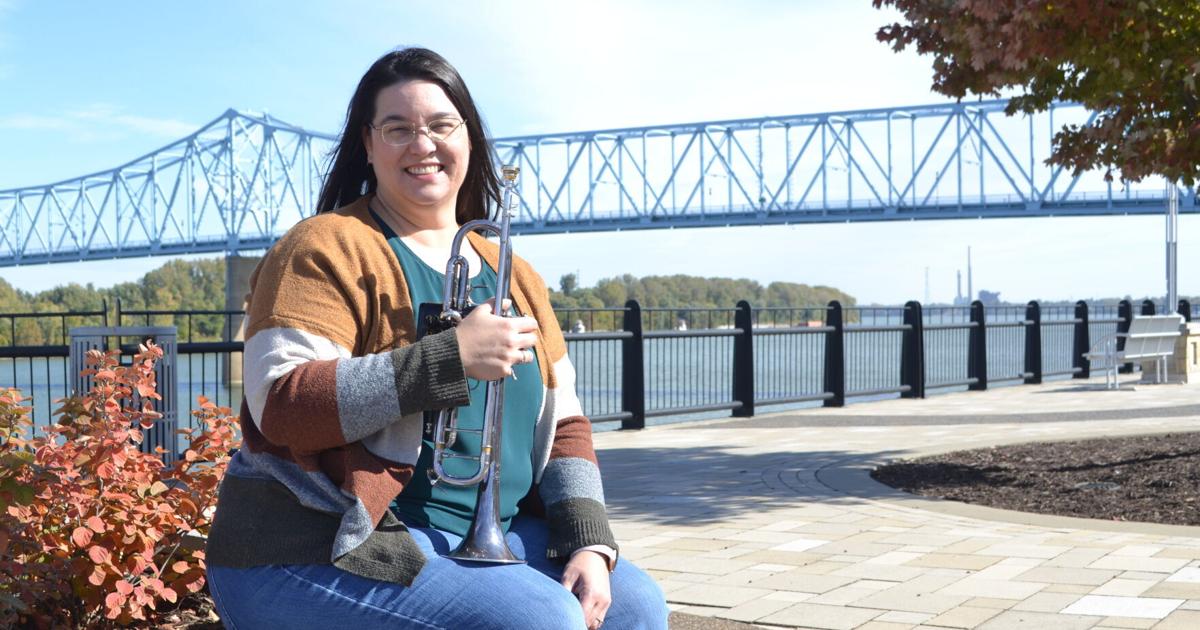 Sharing the Sound: Eastwood seeks to bring music education to others | Mclean County
When Island native Pamela Eastwood was 9, she received a gift that marked the start of her career in music and education.
"I don't remember asking for it; I just remember that on Christmas, 'Santa Claus' brought me an electric keyboard…and I thought it was awesome," Eastwood, 44, said. "…And then it became , 'Oh, we're going to take piano lessons.'
"In hindsight, I asked my mother, 'How could I have come to this?' and she's like, 'Oh, you asked for music lessons.' "
Although Eastwood does not recall the conversation, she began taking lessons in March 1988 with Florence Stodghill at Livermore until her second year of high school.
As a student at McLean County High School, Eastwood played trumpet in the marching band and was also involved in concert and cheering bands.
She found playing the trumpet "a lot of fun" and began to get to know musicians like jazz trumpeter Doc Severinsen, who led the NBC orchestra on "The Tonight Show Starring Johnny Carson" and even saw Severinsen perform. perform live at Madisonville Community College.
"For me, it was just awesome, and I just think, 'I want to play like Doc Severinsen,'" Eastwood said. "…So, I hit the ground training more and more. I spent hours a day training…"
Years later, in 2004, Eastwood met Severinsen at a trumpet conference in Denver where they took pictures together and she got to share with him the influence he had on her career.
"He was just honored," she said, "and … he was like, 'Do you mind if I have my picture taken with you?' … I felt privileged at that time.
Eastwood didn't major in music when she enrolled at the University of New Mexico in 1996, though she had the opportunity to perform with the then president's cheer band , Bill Clinton, during a re-election campaign in Albuquerque in the late 90s.
"…I started out as a biology student and I just didn't feel it," she said. "I was a minor in music. and I just didn't know (what to do), so I took a lot of classes that I couldn't get here… like archeology classes, a lot of ancient Mesoamerican history – all that.
After about a year and a half to two years, Eastwood returned home and took classes at Owensboro Community College (now Owensboro Community & Technical College) to complete her associate's degree.
It was a conversation with her mother that helped Eastwood see what she should pursue.
"It was during that semester that my mom said to me, 'Have you ever thought about majoring in music?' she says. "She's like, 'You keep talking about these other careers, but you keep (come back) to music?'
"…I've always thought about keeping music in my life; I just didn't know this was going to become my life.
Eastwood then studied music and education at the University of Kentucky before the curriculum changed to focus more on the performance aspect. She transferred to Eastern Kentucky University, which seemed to fit her overall goal better.
"I (really) wanted that part of education," she said. "…In my freshman year of high school, I auditioned for the Governor's School for the Arts, and I had taken classes and we worked on different things."
During his lessons, Eastwood said the emphasis was more on technique than music theory. When she arrived at the audition, Eastwood was able to play two scales before a judge asked her to play a scale that was foreign to her.
Although she got it right after some advice from the judge, Eastwood remembers how she felt after he left.
"I walked out and thought, 'There are more ladders? What am I missing?' she said. "…I just felt like I was missing stuff, so as I went to college and learned the theory…I started to say, 'How could I take what I learned in college as far as what I thought I should have learned earlier and start integrating that? » "
After graduating from EKU in 2004, Eastwood traveled to Indiana to teach music in the school systems, starting first in Marion before moving to the Fort Wayne Community Schools District for eight year.
"I love working with children; I love teaching them music," she said. "That mesh over there – I love it."
She eventually moved closer to her hometown, teaching in Hardin County for about three years before returning to the island last year.
Eastwood began giving private lessons in 2018 focusing on piano, guitar, trumpet, ukulele, vocals and more, which quickly grew into a full-time activity.
"The next thing I know is that I have 43 lessons a week," she said.
And though Eastwood said COVID has caused a little hiccup, she still looks after local students and those with military families in Alaska and Texas, she is able to instruct via Zoom.
Eastwood finds being able to be part of a student's introduction to learning an instrument to be a "heartwarming" experience and enjoys seeing them grow through the process.
"For me, those are the great times when kids can say 'oops' and fix (the mistakes) themselves," she said. "As I always tell my kids, my job here is to get you where you don't need me. I love that they need me, but I want to be the one sitting here and saying, "You did it." You did it all alone. … I love it when they can use their knowledge and run with it.
For Eastwood, her main goal is to be able to educate people about something she loves.
"…I know I don't want to be paid to perform as a performer as long as I enjoy teaching," Eastwood said. "Making sure everyone knows something about music is more my passion. …For me, it's all about sharing information.
"Music is everywhere – and I just feel like everyone should have the chance to learn. … I just have this dream of everyone having music in one way or another in his life.
If you'd like to talk to Eastwood about classes, contact her at facebook.com/pamela.e.seidl.