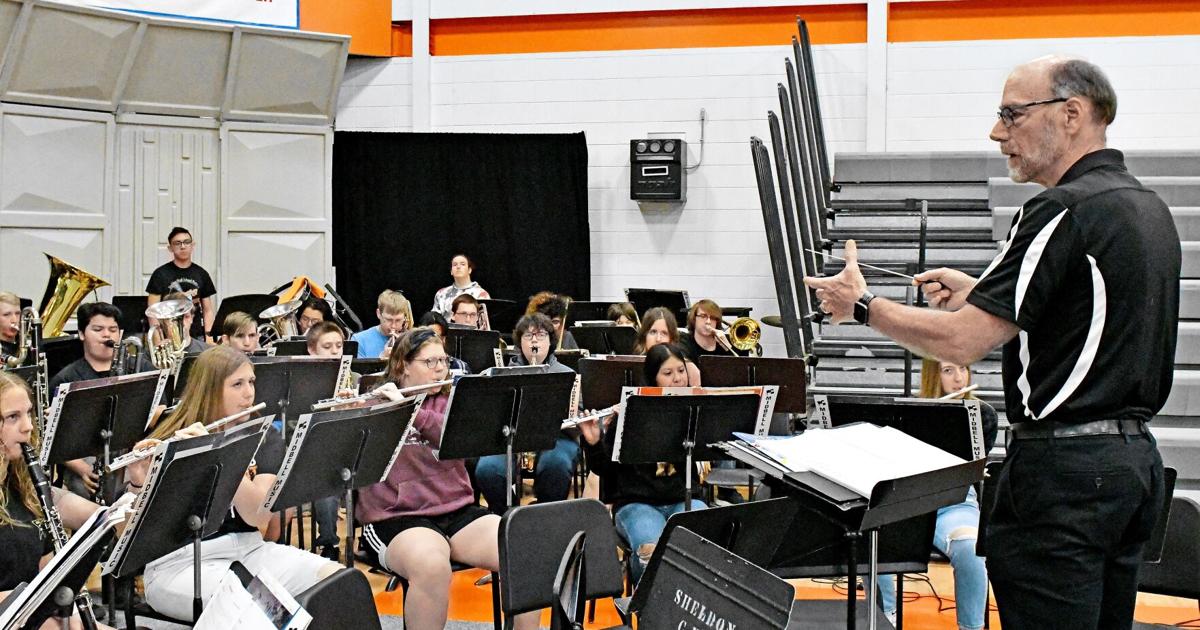 Sheldon Named Best Community for Music Education | New
SHELDON — Sheldon High School's director of instrumental music, Cliff St. Clair, swore he would never lead a marching band. On the one hand, the fast-marching style of many conventional marching bands was fun to watch, but inevitably, "the music suffered from it," he said.
"My chop-playing trumpets would be banging by the time I finished marching," St. Clair said, recalling his experience as a college student when rambunctious style was prevalent.
However, once St. Clair discovered "a new way of marching" – less flashy, more musically driven – he came to appreciate something unexpected in the role of a marching band – something that went beyond considerations such as musicality and precision.
"I came to appreciate the value of the marching band to the community," St. Clair said.
NAMM Award
The important relationship between the Sheldon School District's music program and its supporting community is recognized in a recent award received by the district, which was one of six Iowa communities named to this year's list of top communities for music. music education by the National Association of Music Merchants Foundation.
The award recognizes the efforts of teachers, students, parents, administrators and community leaders who support music programs as part of a comprehensive education for all children.
Brandon Lenderink, director of vocal music for Sheldon students in grades 7-12, said it takes a community to support music education.
"When our program is in great need of things, the community has done well to rally behind it," Lenderink said.
Among recent purchases, "the Marching Band has a beautiful new sound system that was paid for through community donations," he added.
Without community buy-in, arts programs don't thrive, Lenderink said.
"Sheldon has a very strong musical tradition, and I think the strength of the musical program is a very good indicator of the support he receives," Lenderink said. "If people don't support something, it doesn't work well."
Speaking on the health of the district's music program, Sheldon School District Superintendent Cory Myer said the high school jazz choir is a standing candidate for the state title.
Lenderink also pointed to performance in competitions as a measure of the health of the music program.
"Our ensembles have competed in state championships eight times," Lenderink said, "and they continue to perform at the highest level and win awards."
He cited Sheldon High School's summer theater program, which celebrates its 50th anniversary this year and concludes each season with a musical, as another example of community support for arts programs in schools, which share a close affinity and together create a community Culture.
"Without community support, these things don't happen at the level they're happening here," Lenderink said.
The Sheldon Music Program enjoys a high turnout among students, one of the measures employed by the NAMM Foundation to select recipients, according to Myer. This year, there were about 60 wind band students and more than 60 more in marching band and color guard. Over 100 students participated in either a concert choir or a mixed choir, with a roughly equal split between the two.
Sheldon students begin their musical education in kindergarten, and the band is introduced as an elective in fifth grade. The choir becomes optional in the seventh year.
boosters
In addition to dedicated teachers and supportive administrators, St. Clair said Sheldon's music education program benefits from the loyal work of the Sheldon Music Boosters Club, which provides an external source of funding through a variety of fundraising events. funds each year.
"From our perspective, as band and choir directors, our connection to the community is through our music boosters — and we have really supportive boosters, really supportive parents," St. Clair said.
Tricia Dagel, outgoing president of the Sheldon Music Boosters Club, said the organization comes alongside the school to support music education.
"The mission of boosters is to enhance and support the music program in Sheldon schools," Dagel said.
The club, which operates under the bylaws and has a board of eight voting members, helps organize and provide meals for group and choir trips, helps defray travel expenses for various competitions, and provides funds for purchases ranging from music stands to large instruments. .
"We get creative," Dagel said. "We are always looking for new ways to raise funds."
In addition to selling annual discount cards, which feature coupons and specials from various Sheldon businesses, the club hosts a "flamingo flocking" fundraiser, which involves filling a yard with plastic flamingos. which can be moved to a yard of the resident's choice, for a price.
Dagel became active in music boosters once her children started getting involved in a band and choir. Her youngest daughter, Bradi, graduated this spring, and her youngest son, Noah, will be a senior next year. In March, her son traveled with the Sheldon Jazz Choir, Vocal Fusion, to compete in the 2022 Iowa Vocal Jazz Championships, where the choir finished fourth in Class 3A.
Dagel saw firsthand how students benefit from a music education.
"Overall, it helps kids excel in their studies, and their stage experience helps them build confidence," she said.
Dagel saw his children thrive through their involvement in music and the fine arts at Sheldon schools.
"My daughter just graduated, but when she started her freshman year, she was shy," she said. "If you spoke to him today, you would never guess."
Among the major purchases enabled by booster donations over the years, the orchestra was able to purchase a set of timpani for $17,000. The club also helps pay for the band's field show in the fall and funds the hiring of a professional choreographer for the show choir's competition season each year.
Dagel stressed that any purchase is fair game – boosters are there to meet any need, big or small. A major purchase that she hopes the club will soon help fund is a new stand for the marching band drum major, who perches above the pitch to lead the band during half-time at football matches and for field competitions.
"It's an expensive item, but we need it for security," she said.
His daughter has just completed her tenure as drum major, and Dagel assessed the condition of the stand with the eyes of a caring parent and deemed it lacking.
"A lot of these things are things that a typical group program wouldn't be able to afford if we didn't have booster support," St. Clair said.
Excellent instruction
In addition to a supportive community, Myer said music education at Sheldon schools benefits from excellent teaching, one of the criteria used by the NAMM Foundation to determine award winners.
In addition to its veteran teachers, changes are afoot in Sheldon's music program, and Myer said the district is excited to welcome a new instrumental music instructor to the middle school next year.
This fall, Peter Carlson, former director of instrumental music at Sibley-Ocheyedan ​​High School in Sibley, will begin directing the orchestral program at Sheldon Middle School. Jeana Larson left the post to start a new role at Bishop Heelan Catholic High School in Sioux City next school year.
"Peter Carlson is a highly regarded music instructor who had huge success at Sibley," Myer said. "He will join us in the fall, and with Cliff and Peter together, our group will have one of the best duos in the entire state."
St. Clair, who has led the high school's music program since 2001, was elected president-elect of the Iowa Bandmasters Association for the 2022-23 school year and will continue to serve as president through the 2023-24 school year. . . Larson completed her term as IBA President this year.
Solidarity community
According to Myer, the success of Sheldon's music program reflects a partnership between educators and the wider community.
"This award is meaningful because it reflects the commitment we have to music education in our school and our community. We are very proud of our music and fine arts programs," Myer said.
Lenderink said the benefits of music education are hard to quantify, but they are significant.
"There are hundreds of studies that show that students who participate in music also do better in everything else," Lenderink said.
Music is also universal.
"We don't know a single culture that doesn't have music," Lenderink said. "Wherever there are humans, they make music. It's a part of the human experience that I want to encourage in our children and teach them to do well.
Some Sheldon students, like sophomore Gabby Van Wyk, begin their musical education as soon as they can. She learned the trumpet in fifth grade and never looked back.
"I started right away, as soon as you could," she said.
His younger sister follows in his footsteps as a trumpeter.
Other students, like Jose Ruiz, later come to Sheldon's music program. A sophomore, Ruiz has only been playing in the band for a year. He plays saxophone in the concert band, and he plans to join the jazz band next year as well.
"I chose the saxophone because it's the only instrument that really has style," Ruiz said.
His favorite styles of music to play on the saxophone have Latin American roots, and he cites cumbia and wapongo among his favorites.
Variety is built into Sheldon's music curriculum, Lenderink said, and choir students sing jazz and pop songs alongside lyrics written in the 1500s. Novice singers join students with years of experience to give voice to musical selections of all genres and cultures.
"It's important that musically we meet the kids where they are," Lenderink said. "When I have a student who has been accepted into the All-State Choir for several years, the work I do with that student is going to be very different from the work I do with the seventh-grade student who just joined the choir and is in the middle of their voice change.
He said music is for everyone
"It doesn't matter who you are or where you are. We can find music for you and get you started singing or playing an instrument," Lenderink said. "Anyone can make music, and we want to encourage that."