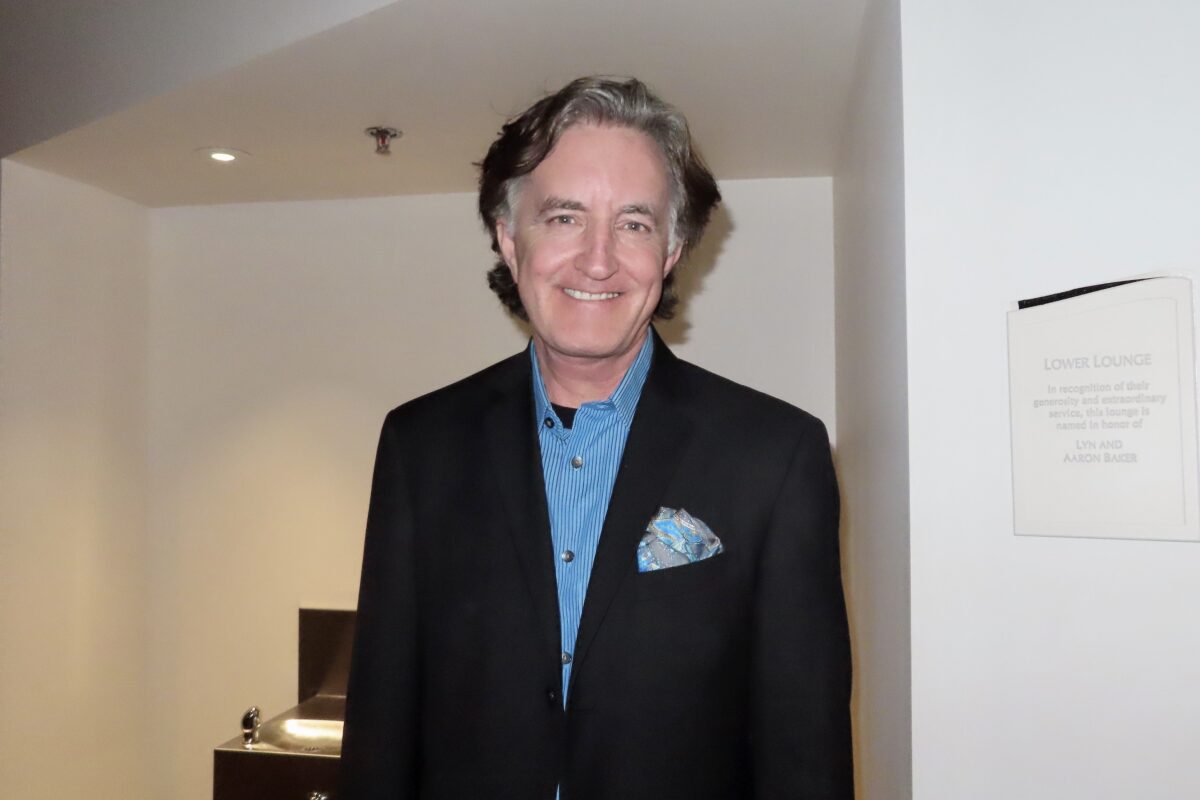 Shen Yun Orchestra Is "Fantastic" According to Composer
SAN LUIS OBISPO, Calif.—Music composer Timothy Hosman was surprised when he came to see Shen Yun Performing Arts at the Performing Arts Center in San Luis Obispo.
Shen Yun has a global mission to bring back the authentic traditional Chinese culture that existed in pre-Communist times. He delights his audience with a repertoire of story-based classical and folk dance and music.
Mr. Hosman had just returned from China where he had completed an important project.
"I was so impressed with the orchestra. It looks fantastic. And they have… the erhu and the pipa and all the different [traditional] instruments that I'm really familiar with, and they're so tuned," Mr. Hosman said.
The Shen Yun Orchestra combines traditional Eastern and classical Western instruments.
"I kept telling my wife it was live music…because it sounds so good, so right and well played," he said.
Shen Yun was amazing in every way, Mr. Hosman said.
"It's amazing how [the actors] interact with the video. I still don't understand how accurate it is," he said. He had never seen anything like it before, referring to the company's dynamic digital technology.
"I can't figure out how they did it. Because it is. I mean, the timing is actually amazing," he said.
Shen Yun dances depict many aspects of China's original culture, including cherished fairy tales, stories teaching moral values, and humorous legends. They also describe the current persecution of Falun Dafa, a peaceful spiritual practice based on the values ​​of truthfulness, compassion and tolerance.
Mr. Hosman praised Shen Yun for educating the public about the human rights abuses occurring in China.
The performance was "very moving", he said. He also congratulated the performers.
"I'm so proud of them all. They do an amazing job. They really are. [I'm] happy to be here," he said.
"Extremely moved"
It is a miracle that we are here watching Shen Yun, said Neil Karwath, a registered nurse. He was accompanied by his wife Esther.
Mr Karwath had booked tickets, but halfway through the show he and his wife were asked to leave. They discovered that they had in fact purchased tickets for the show the night before. The couple were devastated but luck intervened as theater staff got up and found them seats near the orchestra in what was a full house.
It was a powerful performance, Mr. Karwath said. The color and light were outstanding. "It really enhanced the movement, also drew me into the story and the message. Not only that, the philosophy moves the heart and moves the mind.
"I felt extremely moved, moved to do something, something more. Don't sit on the sidelines," he said.
Traditional Chinese society was based on teachings said to have been passed down from celestial beings to earthly mortals.
"I'm really moved to research and honestly become a supporter in every way possible, because [the performance] is just that displacement. It's a powerful message. The whole purpose, the whole philosophy, the whole story is authentic. It is unique in our time. I think that resonates with people who are genuine and care about us," Mr. Karwath said.
Mr Karwath's wife, Esther, said she appreciated the urgency of the performance which also concerned her on a spiritual level.
"What I really loved [Shen Yun is that] you can feel the ride," she said. " It's urgent. There is a very subtle way of conveying a message, but in an environment of celebration of life," she said.
"It's really hard to deliver a tough message and then surround it with hope and joy. I understood it on a spiritual level, but it's really hard to put it into words.
Reporting by Alice Sun and Diane Cordemans.

The old times is a proud sponsor of Shen Yun Performing Arts. We have covered audience reactions since the establishment of Shen Yun in 2006.