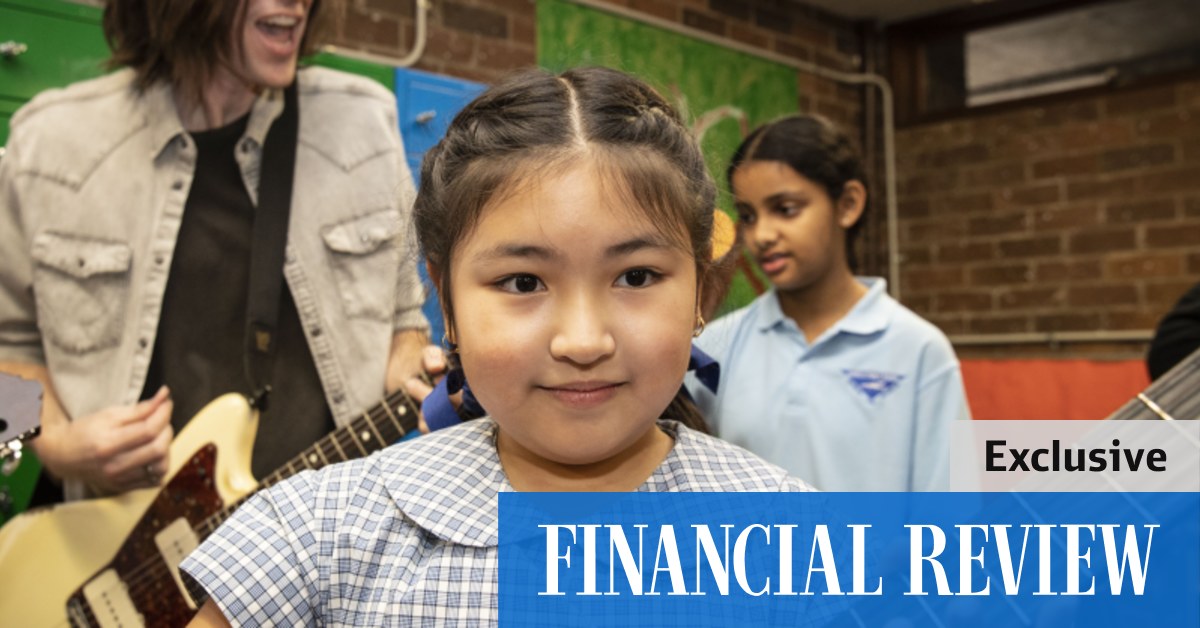 why music education should be compulsory for children
The situation seems to have worsened since 2003. It was then that Professor Sahlberg, freshly arrived from Finland and sending his children to public primary school, realized the seriousness of the situation.
"I come from a country where music is the foundation of education for all. But in Australia, less than 25% of public primary schools have a qualified music teacher," he said.
That's how he met Mr. Kradolfer, who taught guitar at his children's school and organized a "little rock and roll concert" for the children to play and show off what they had been working on. .
"Every teacher is a music teacher"
Mr. Kradolfer's own journey has ranged from frontman of indie rock band City Riots to guitar teacher, music education advocate and reformer.
"My goal is to make every teacher a music teacher," Mr. Kradolfer said.
"It's to remove the barriers that teachers have to overcome to be able to teach music. It's to create something that's accessible, to make them feel empowered and confident and so they have a reason to do it, besides just being in the program.
Expectations in Australian public schools are low, with more inclusive approaches in Catholic and independent schools. Most public schools provide music education on an equal footing with all other arts, from kindergarten through 8th grade. This translates to just one hour, once a week, for one term of each school year.
In Finland, pupils have compulsory music education from ages 6 to 12 for two to four hours a week, which builds on music education in daycare or kindergarten for about 20 to 60 minutes a day.
In Australia, generalist teachers only receive 17 hours of training in music education, compared to 160 hours in South Korea and 350 hours in Finland.
A field known as neuromusical research has revealed that the brain processes language similarly to music.
A 2020 report, Music education: a good investment argued that if we are to improve literacy, education systems need to ensure that the cognitive foundations that our students need are in place.
As for the recorder as the basis of musical education, Mr. Kradolfer says it is more of a curse than a blessing.
"The recorder seems to be the gateway to music in the classroom. It is a rather uninspiring instrument. And the thing is, it looks awful," he said.
Instead, he suggests bringing out ukuleles, acoustic guitars, glockenspiels, or percussion instruments.
"It's about getting kids to experiment with different sounds and textures and creating songs, and getting teachers and principals to understand that music can be a powerful way to inspire kids to come to school. and learn."